SRITC Virtual Cafe: BYOC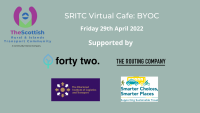 In May 2021, SRITC supporter and smart mobility design specialists The Routing Company joined our Virtual Cafe to introduce us to to the work that they do and the rural demand responsive bus project they were about to embark on in partnership with the Regional Transport Authority (RTA) HiTrans & bus operator West Coast Motors.The project taking place in Dunoon and Campbeltown in Argyle and Bute.
Fast forward 12 months, and the project is reachng its completion so The Routing Company will return to share the insights that they have gained. What level of usage has their been from the residents of both towns? How happy have users been with the overall experience, and what will these outcomes mean for other rural and islands communities who aspire to increase utilisation of shared mobility services?
As always, there will be plenty of time after the presentations for Q&A and an opportunity to share your experiences and stories of living, working and supporting the travel needs of your community.
Remember BYOC means Bring Your Own Cake so get baking (or buying) so you can share your photos and create "cake envy".
FAQs
How do I access the Virtual Cafe?
Joining instructions including a Zoom meeting weblink will be emailed to after you've registered. Reminder emails sent 48, 24 and 2 hours before the event will also contain the Zoom link.
All you need to do is click on the link and, if prompted, enter the security password that will be included in the email.
What technology will I need to join the Virtual Cafe?*
All you need is a PC/Laptop with a microphone and internet connection. If you have a headset please connect that to your computer to ensure that you can be heard clearly if you want to ask questions during the event.
Do I need to have a Webcam to join the Virtual Cafe?
No. While most computers have webcams, it's not mandatory that you use it during the virtual Cafe.
Can I join by phone?
Yes you can join using a landline or mobile phone. Access phone numbers will be included in your registration confirmation email.
Can I promote the event on social media?
You certainly can. If you have a Twitter account, please use the handle #SRITC2022
How can I contact the organizer with any questions?
If you have any questions ahead of the event feel free to email This email address is being protected from spambots. You need JavaScript enabled to view it.
If it helps and you aren't used to using the link through Zoom, then let us know and we can buddy you up. Zoom doesn't take much broadband compared to Skype but if internet connection is going to be a problem let us know.
Event Information
| | |
| --- | --- |
| Event Date | 29-04-2022 10:30 am |
| Event End Date | 29-04-2022 11:30 am |
| Available place | 49 |
| Cut off date | 28-04-2022 8:00 pm |
| Location | Online |