The Gathering 2023
The SRITC Gathering 2023
10 - 11 May 2023 | Boat of Garten
Gathering 2023 Updates
The countdown to The Gathering 2023 has officially started and we're excited to share with you the full programme of events over the 2 days of Wednesday 10th May & Thursday 11th May. This includes trips to local transport operators and community hubs on the 10th and the plenary session on the 11th.
Programme of the Gathering is subject to change.
How do I secure my place at the Gathering?
Registration for the Gathering officially opened on June 8th and offers great value for money given the location and how many activities we have planned. We thank all our supporters for making this possible in particular, Smarter Choices Smarter Places.
The team have created a special Eventbrite page for the Gathering so you can view the details on the tickets/passes that are available. The Eventbrite page will be updated with the speakers and the programme in the coming days and weeks, so keep an eye.
Where's the Gathering taking place?
Boat of Garten (BoG) is a small village nestled between Aviemore and Grantown on Spey in the Cairngorm National Park with Loch Garten lying to the southeast of the village. To the east of the village is the small settlement of Drumuillie. Situated at an altitude of 220 metres (720 ft) above sea level, it lies 0.5 kilometres (0.31 mi) from the River Spey in the Cairngorms National Park. It is close to the Cairngorm Mountains and in view of the Lairig Ghru and the northern Braeriach corries. The area between Boat of Garten and Loch Garten is within the Abernethy Forest National Nature Reserve.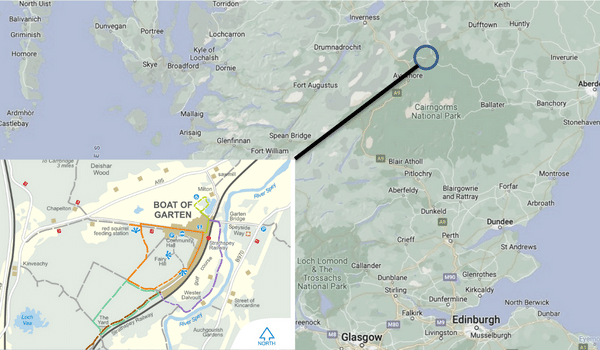 What's the programme of activities over the 2 days?
Wednesday 10th May
The Gathering kicks off on Wednesday afternoon with the opportunity to visit some local attractions including the home of the Strathspey Steam Railway in Aviemore and the Tomatin Community Hub. In the evening, we'll gather at the Speyside Hotel in Grantown on Spey to enjoy a selection of canapes made from locally sourced produce followed by the chance to sample some whiskeys and beers made at nearby distilleries and breweries. Courtesy of support from Stagecoach, a free bus service will be available to transport you to and from your accommodation.
Thursday 11th May
On the 15th September we'll be based at the Community Hall in Boat of Garten. From 09.45 to 16:15 we'll explore the major mobility challenges facing rural and island communities via facilitated panel discussions (more details below) and workshops. Once the formal proceedings have wrapped up, you'll have 2 hours to freshen up before we gather again in the main hall at 6:30pm for dinner, dancing and the inaugural Rural Transport Awards. The free bus service provided by Stagecoach will be available to take you back to your accommodation at the end of the evening.
Panel Sessions
Session 1: 10:15-11:15 - Innovations in Rural Mobility
In this first session of the day, we'll be joined by experts working within the rural innovation ecosystem to discuss the role that technology and policy is playing in developing conventional and unconventional mobility services that are more accessible, affordable and sustainable.
Welcome: Alan Ireland, Regional Manager, Smart Dublin
Session Chair - Ally McInroy, CEO, Technology Scotland
Panellist - Caroline Broughton, Senior GIS Modeller at Connected Places Catapult
Panellist - Andy Ronie, Principle Consultant, Alco Consulting
Panellist - Jamie Duffy, Co-Founder, Tronius Ltd
Panellist - Iain McNeil, Managing Director at Whereverly
Session 2: 11:20-12:20 - Decarbonisation of Rural & Island Transport
The second session of the day will discuss the steps being taken to accelerate the decarbonisation transport networks in rural and island communities via increased use of shared mobility services, and the consolidation of passengers and parcels.
Welcome: Jeff Pyrah, Planning Policy Manager at Rother District Council
Session Chair - Ben Colson, Rural Policy Lead, Chartered Institute of Logistics and Transport
Panellist - Rachael Murphy, Director for Scotland, CoMo UK
Panellist - Walter Scott, Service Leader - Roads & Transportation at Angus Council
Panellist - Andy Hyde, Founder, Go Upstream
Panellist - Jonathan Chatfield, Head of Policy (Freight and Stations) at Rail Delivery Group
Session 3: 13:15:14:30 - Sustainable Rural & Island Travel
The final panel session at The Gathering will convene local, regional and international practitioners to share their experiences and perspectives on practical solutions that are being implemented to make it easier for locals and visitors to adopt more sustainable modes of travel.
Welcome: Martin Schiefelbusch, Competence Centre for New Mobility Concepts, NVPW, Germany
Session Chair - Mark Tate, CEO, Cairngorms Business Partnership
Panellist - Rurai Watt, Highland Mountain Bike Development Co-ordinator, Scottish Cycling
Panellist - Ruth Wilson, Postdoctoral Social Scientist, James Hutton Institute
Panellist - Matt Kendrick, Head of Business Development (Western Europe), The Routing Company
Panellist - Gerard Tattersfield, Active Travel Hub Officer, Arran Eco Savvy
How to get to the Gathering?
By train
Aviemore is served directly by Scotrail (from Inverness, Stirling, Perth, Edinburgh, Glasgow), LNER (one service per day - departing London King's Cross at 12.00pm) and the Caledonian Sleeper (one service departing London at Euston). Aviemore can be reached from most destinations but will require changes particularly if you are on the east of the country or south of the central belt. In addition, some services stop at Carrbridge.
By bus
Aviemore is served well by coach using MegaBus and Scottish Citylink connecting all the major Scottish Cities. Buses from the north can travel through Carrbridge and or a change can take you to Grantown on Spey. Booked in advance fares are also very reasonable. Should you wish, there is a scheduled service to BoG with the Number 37 (which can run to Inverness depending on timings!).
By car
If you're considering driving to the Gathering then please let us know if you'd be willing to car share to help someone without car attend so reduce transport emissions.
To get to Boat of Garten from the south (Edinburgh & Perth), travel north from Perth on the A9, turn right off the A9 at the Grantown on Spey / Carrbridge junction (A95) north of Aviemore. Follow the signs for Boat of Garten. From the north (Inverness) travelling south from Inverness on the A9, turn left off the A9 at the Carrbridge / Grantown on Spey junction. Drive through Carrbridge and carry on to the T-junction at the A95. Turn left and take the next right to Boat of Garten.
By plane
Scotland is well served by a number of airports with Inverness Airport being the closest to Boat of Garten. Although, international attendees may find it more convenient to arrive at Edinburgh Airport or Glasgow Airport. Inverness airport is regularly served by buses but again when you complete the Google Form, this information will help co-ordinate journeys so we may be able to assist with shared transport.
Local buses
Boat of Garten Hall is about 5 miles away Aviemore. You don't need to panic about transport over the 1 1/2 days as Stagecoach have kindly offered us some buses to help you move around.
These will be free for you to use to get to sites/accommodation/venue over the two days but as you can imagine this will require a great deal of logistics and co-ordination. When you book your ticket for the Gathering you'll be asked to complete a short online questionnaire. It's really important that you do so because the information will not only help us to plan bus pick up and drop off locations but also help to co-ordinate car sharing.
Walking
It is a six mile walk from Aviemore to Boat of Garten and it is possible to walk on a mixture of terrain including a minor road, farm and estate track, SUSTRANS cycle route, and the Aviemore orbital footpath. There are also many walks around the Boat of Garten.
Cycling
Boat of Garten is on Cycle Route 7 and Speyside Way which links Boat of Garten to Aviemore as well as the Cairngorms National Park to further a field in the Highlands and Scotland. The route details can be found on the Sustrans website. The journey from Aviemore takes approximately 40 minutes. If you wish to use a bike and a bus, please do remember to let us know!
Boat of Garten hall has showers and bike racks so is well equipped to handle our needs.
Where can I stay?
Many providers will offer flexibility in terms of cancellation so we would suggest you use the links below to contact them directly. Once you've booked your accommodation please complete the short questionnaire so we know where you'll be staying. This will enable us to co-ordinate the free buses that will pick you up from a location close-by.
As a social enterprise, we're asking people to support local accommodation providers so we honour to our ethos of keeping the Gathering local and sustainable. More so given the challenges that local businesses have experienced in recent years. Cairngorm Business Partnership (CBP) are helping SRITC to organise the event and their website is a useful source of local information.
We do have a deal with the Speyside Hotel in Grantown where the Wednesday night event will be held. When you book, quote 'Jenny Milne' to receive the offer. There maybe other offers coming, so keep an eye on this page and also the above links.
Dress Code
Some people have been asking about the dress code. On the Wednesday night, dust down the smart casual clothes aka Chino's etc for men and on the Thursday night something slightly more. I suspect those who have kilts will use this as an excuse to dress it down and wear a smart shirt etc, but there's nothing stopping you taking it to the max! After all we need an excuse and I'll dig out the dress and heals!!
What if I can't make it in-person to the Gathering
We know not everyone can join us in-person so on Thursday 11th, the Gathering will be available online. We'll be using Zoom. If you're likely to have an issue using Zoom, please do let us know as we understand that not all organisations can use this software. Indeed you may need help setting up zoom, so again, please let us know if that is the case.
We are charging a nominal fee to join online as we need to hire equipment and as a social enterprise, we need to cover our costs.
Still got questions?
Please email them to This email address is being protected from spambots. You need JavaScript enabled to view it. and we'll get back to you.