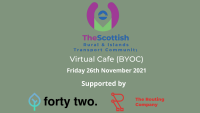 The final Virtual Cafe of 2021 offers another opportunity to hear from guest speakers on the challenges and opportunities they've faced via their partcipation in specific rural mobility projects inside and outside of Scotland.
As always, after the guest speaker presentations, there will be plenty of time for Q&A and an opportunity to share your experiences and stories of living, working and supporting the travel needs of people in your community
Remember BYOC means Bring Your Own Cake. Yes, there's always a good excuse for a slice of cake so get baking (or buying) so you can share your photos and create"cake envy".
FAQs
How do I access the Virtual Cafe?
Joining instructions including a Zoom meeting weblink will be emailed to after you've registered. Reminder emails sent 48 and 24 hours before the event will also contain the Zoom link.
All you need to do is click on the link and, if prompted, enter the security password that will be included in the email.
What technology will I need to join the Virtual Cafe?*
All you need is a PC/Laptop with a microphone and internet connection. If you have a headset please connect that to your computer to ensure that you can be heard clearly if you want to ask questions during the event.
Do I need to have a Webcam to join the Virtual Cafe?
No. While most computers have webcams, it's not mandatory that you use it during the virtual Cafe.
Can I join by phone?
Yes you can join using a landline or mobile phone. Access phone numbers will be included in your registration confirmation email.
Can I promote the event on Social Media?
You certainly can. If you have a Twitter account, please use the handle #SRITC2021
How can I contact the organizer with any questions?
If you have any questions ahead of the event feel free to email This email address is being protected from spambots. You need JavaScript enabled to view it.