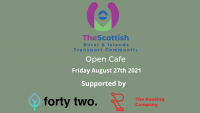 With no fixed agenda and no presentations, the SRITC Open Cafes are an opportunity to just turn up and chat about whatever rural mobility issues and ideas are on your mind.
From a social standpoint, the cafes are a chance to catch up with old friends and make some new ones as well, especially important as our ability to meet face to face continues to be limited due to the COVID pandemic.
Remember BYOC means Bring Your Own Cake. Yes, it's a new year and we may be watching our diet but there's always a good excuse for a slice of cake so get baking (or buying) so you can share your photos and create"cake envy".
FAQs
How do I access the Virtual Cafe?
Joining instructions including a Zoom meeting weblink will be emailed to after you've registered.
Reminder emails sent 48 and 24 hours before the event will also contain the Zoom link.
All you need to do is click on the link and, if prompted, enter the security password that will be included in the email.
What technology will I need to join the Virtual Cafe?*
All you need is a PC/Laptop with a microphone and internet connection. If you have a headset please connnect that to your computer to ensure that you can be heard clearly if you want to ask questions during the event.
Do I need to have a Webcam to join the Virtual Cafe?
No. While most computers have webcams, it's not mandatory that you use it during the virtual Cafe.
Can I join by phone?
Yes you can join using a landline or mobile phone. Access phone numbers will be included in your registration confirmation email.
Can I promote the event on Social Media?
You certainly can. If you have a Twitter acount, please use the handle #SRITC2021
How can I contact the organizer with any questions?
If you have any questions ahead of the event feel free to email This email address is being protected from spambots. You need JavaScript enabled to view it.
If it helps and you aren't used to using the link through Zoom then let us know and we can buddy you up. Zoom doesn't take much broadband compared to Skype but if internet connection is going to be a problem let us know.